Our Newest Addition: Moose Head Wreath
Pam's Moose Head Wreath is a classic Maine themed wreath after the state of Maine official Animal. This wreath would look great on a barn or front door of anyone who loves the State of Maine and the great outdoors. This moose is made on a ring produced in house by Pam's Wreaths. It Includes Balsam Fir for the body, white pine for the moose's beard, and white pine cones for the antlers. It also includes a horse chestnut for the eye and a red ribbon around the neck. The finished dimensions are approximately 27" long x 27" wide.
Shop Now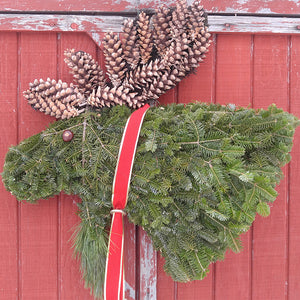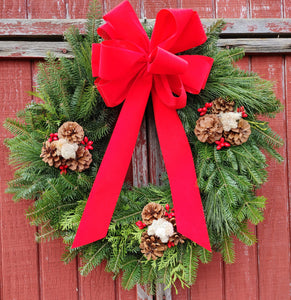 Pam's Wreath Features:
-Guaranteed Fresh, made with Balsam Fir with at least 3 nights of frost (Below 32 degrees)
-Double Sided Wreaths
-Approximately 24 inch diameter, 7-8 lbs
-Hand Tied Bows
-Gift Tag
-Colored Berries
-Pine Cones
-Reindeer Moss
Shop All Wreaths
Welcome To Pam's Wreaths
As a family owned and operated business in Harpswell Maine since 1984 , we are dedicated to offering the best Maine-made Holiday wreaths to people all over the country. Hand-crafted from the freshest Balsam Fir, every one of our wreaths is made personally by founder, Pam Douglas, and her son, Sterling. Each wreath is made and delivered green, fragrant, and fresh, adding the perfect touch of holiday spirit to any home for the whole winter season. Pam's Wreaths is now offering a new line of Seashell Wreaths. These are made with Seashells from the beaches in Harpswell Maine.
Have a look around our site for all the different styles of wreaths that we can create for your family and read Pam's story about her beginnings in wreath making with her grandmother, along with how she continues the family tradition and business today.
We are now accepting orders now for both our Christmas wreaths and Seashell wreaths, so you can start placing your wreath orders online for your friends, family, and clients today. We ship everyday monday through Friday for our Seashell wreaths and will begin shipping the week of Thanksgiving for our line of Christmas Wreaths.
Please note that to ensure delivery before Christmas, orders must be placed by December 15th. In addition to our standard shipped wreaths, we also offer a variety of different size wreaths, and prices for delivery in the surrounding area. Please call or or email us with any questions or comments. We love hearing from you.
Thank you to everyone who purchased wreaths from us last season, we hope you all enjoyed them and we look forward to hearing from you this coming year!